May 2, 2012 (Wednesday) – Still Wednesday: After our visit to the Ho Chi Minh Memorial, Zabine and I were taken to the home of a Vietnamese National Spiritual Assembly member (Duyen). Other Baha'is were gathering, and only after some time did we realize that the purpose was to pray in celebration of a Baha'i Holy Day: the 12th Day of Ridvan.
Following prayers, delicious tea and desserts were served. Among them was what appeared, at first glance to be – a Vietnamese tamale! Remembering the name of this web journal, I had to know more.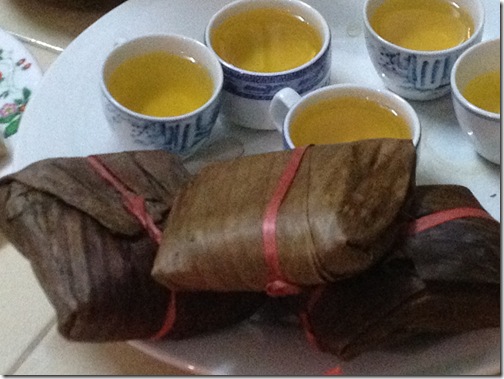 The name of this Vietnamese dish is something I never quite learned to pronounce or spell, so please forgive me for not trying. Perhaps it wasn't literally a tamale. A tamale is a leaf-wrapped concoction of cornmeal (or some similar dough) with various fillings – meat, cheese, vegetables, fruit, or other treats. This was a banana-leaf-wrapped dessert consisting of sweetened coconut and other fillings, surrounded by a bean-based coating. Nevertheless, the structural similarity to tamales I've seen was unmistakable.
Later, back at our home-away-from-home, three young Vietnamese women came over by motorcycle to study the Baha'i Faith with Zabine. They were brimming with questions, which Zabine deftly answered using her Heart to Heart multimedia resource on the iPad. My best guess is that all three will soon be in a Book One study circle, or enrolled as Baha'is, or better yet both.