There's a "new" book from Stonehaven Press: 'Abdu'l-Baha, Einstein and Ether by Gary Matthews. (That is, by yours truly.)
Please note the quotation marks. This volume isn't technically new, but it's a vastly expanded second edition with so much new material, and so much formatting improvement, that it might as well be new.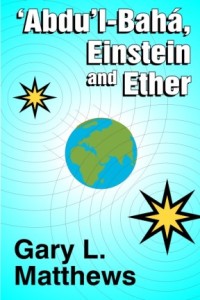 Read my introductory article here, at GaryMatthews.com. Or find ordering-and-purchasing information here, at StonehavenPress.com.
If you're interested in the connections between science and religion, reason and revelation, then this book may well appeal to you. Designed for the general reader, it's a popular, non-technical overview of quantum physics and general relativity, in their relation to something called "luminiferous ether".
And of course, to the Baha'i Faith, since Baha'i sacred texts contain statements about ether that sometimes raise eyebrows.
In print form, 'Abdu'l-Baha, Einstein and Ether is 72 pages, perfect-bound, and illustrated. The earlier version was a 28-page booklet.
This also is the first Stonehaven book to be published as an ebook. (More coming soon!) It's available both in Kindle-compatible form (MOBI) and everything-else-compatible form (EPUB). Please note — at the moment it's solely on the Stonehaven Press site. This means that if you download the MOBI version, you'll have to transfer it to your Kindle yourself. We should soon have the electronic version available at Amazon, so you can download it directly to your Kindle account.
We believed it was time to create the expanded, updated version because in recent years (after the original publication in 2000), a wealth of new material on the topic has come to light. This includes a large number of recently unearthed or translated statements by Albert Einstein.
Einstein has for many years been thought of as the physicist who discredited and discarded the whole "ether" concept. That was true for a short time. But he changed his mind, and spent most of his later career revising and clarifying his original stance.
Even if you aren't interested in the science-and-religion interplay, this book is an easy introduction to what once was a hot topic in physics and seems to be becoming a hot topic again. You heard it here first!