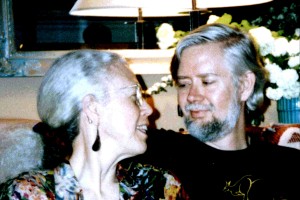 Can America's most geriatric city top our nation's "hot to trot" list? Yes, we can!
Let's contrast two hot-off-the-press news flashes:
ITEM ONE: It's official: During the run-up to Valentine's Day 2012, we learn that America's most romantic city is Knoxville, Tennessee, home of the famous Astonished Tamale! (Also the University of Tennessee Lady Vols, manytime national champions under basketball's amazing Coach Pat Summitt. Plus we used to play a little football.)
Our "most romantic" ranking is bestowed by Amazon.com, presumably the last word on such questions. Amazon's Feb. 9 press release cites Knoxville's purchases of romance novels, relationship books, romantic comedy movies, Barry White albums, and "sexual wellness" products. We beat out Alexandria, Virginia, which held the top spot for the past two years.
The "least romantic", according to Amazon, is New York City, whose Wall Street Journal a few years back kissed off Knoxville as a "scruffy little city".
ITEM TWO: Just one day after Amazon's announcement comes the prestigious Real Age web site (realage.com), handing Knoxville its coveted "Oldest Fart" award.
Okay, technically, Real Age calls Knoxville America's "oldest" major city in terms of "aging too fast" (via poor health practices). Drs. Michael Roizen and Mehmet Oz, founders of the site, calculate "real age" by adjusting for diet, exercise, tobacco use, seat belt use, and many other factors that affect longevity. Knoxvillians on average are just 33 calendar years old, but our "real age" apparently is much greater. (The docs don't specify precisely how much.)
According to Real Age, Knoxville earns its "bottom spot" via "drinking, smoking, stress, unemployment, low income, and — not surprisingly — the least amount of optimism".
Real Age, however, agrees (at least halfway) with Amazon about Knoxville's romantic prowess: Despite chiding us for life-shortening health neglect, it still names Knoxville the nation's "best city for sex for women". And lots of hot sex — according to Oz and Roizen — is a powerful lifespan booster.
The irony isn't lost on Real Age, which comments: "Knoxville's ladies prove that being stressed, sleepless, and cynical shouldn't get in the way of a satisfying sex life. "
We guys, alas, don't fare so well: For us, Real Age deems Knoxville the nation's eighth worst for sex. San Diego, California, earns top marks as the best city for sex for men. Hmm. Knoxville gals, San Diego guys: "Where are they getting together?" wonders Dr. Keith Roach, Real Age's chief medical officer.
The Astonished Tamale! would like to know as well. If you have the answer to that or any related question, please be among the first to comment using the link below.
And wherever you live, please enjoy many more wonderful Valentine's Days throughout a long and happy life!