The Astonished Tamale! is pleased to introduce a new service for its readers. We're calling it Heart to Heart HD. You can test-drive it here. (Or simply click the "Heart to Heart HD" item on the black menu bar above.)
A bit of history:
Heart to Heart (without the HD) is an omnibus slideshow addressing more than 700 important and frequently asked questions about the Baha'i Faith. These are grouped into 18 major topics (or "tracks"), each constituting a slideshow in its own right. Each question is answered with direct quotes from Baha'i scriptures and authoritative texts, and — perhaps most important — each is illustrated with wonderful artwork.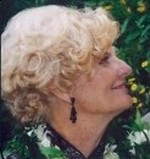 This spellbinding masterwork is the brainchild of Zabine Maryam Van Ness. The letters of her name rearrange to spell "Man! Banzai! Many verses!" That about sums up the way I felt when I first met her and saw Heart to Heart's early prototype, in 1998. Even then it took my breath away.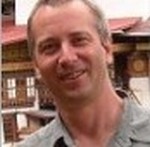 But it took more than a decade of dogged determination, on Zabine's part, to bring Heart to Heart to its present level of polish. This process accelerated when, somewhen along the way, she began working with Miles Lane, an artistic genius and computer wizard. Together they brought the product to fruition somewhere around 2008. (I played a small part as contributing editor and peer-review coordinator.)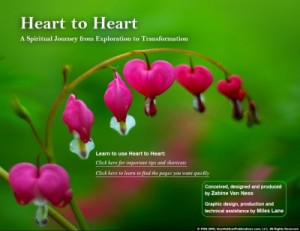 In its present form, Heart to Heart is a large Adobe Acrobat PDF file. It has an ingeniously nested table of contents, a fully linked index, navigational "hot-spots", an amazingly quick search facility, and too many other neat features to mention.  Loaded onto a notebook computer, it's a perfect teaching tool for Baha'i firesides, public discourse, devotional meetings, personal conversations and the like.
The PDF file is a commercial product, one worth many times its token price. Zabine poured more than a quarter-million dollars of her own money into developing this product, and I doubt she'll ever recoup her investment — especially since she expends a huge chunk of the proceeds on free copies for Baha'is in Africa and other developing regions where resources are scarce.
But what Zabine and the rest of us have wanted, all along, is a way for anyone to experience the full richness, power, and beauty of Heart to Heart via the magic of the World Wide Web. How to do this without simply giving it away as a free download? (That would rather defeat the purpose of having a paid product.)
One answer is Heart to Heart Online, which provides an "embedded" version of the presentation (in English and Spanish). But this approach has limitations: The embedded view is relatively small, relative to one's screen; and navigation is awkward: It involves typing desired page numbers into an inconspicuous box. Worst of all, the embedding software doesn't work with the iPad or similar Apple devices.
After tinkering with the problem here at The Astonished Tamale!, we stumbled upon the experimental workaround we're provisionally calling Heart to Heart HD. Please check it out, keeping in mind that this is a first pass: We'll probably polish and tweak it many times — assuming it flies at all.
Heart to Heart HD is a new web-based interface for Heart to Heart Online. It offers the various component slideshows in gallery form, linking each one to the associated sequence of questions. Each question, in turn, links directly to the slide that answers it. You can easily arrow back and forth among the slides, but also pop back at will to the outline of contents. It's platform-independent; you can view everything fullscreen; and it really shines on the iPad! (That alone makes it visible to millions of new eyeballs.)
Did somebody say "experimental"? I'm very excited and hopeful — but truthfully, I've no idea whether this attempted "HD" approach will work or not. Please check it out, using the link on the top menu bar above. (Or just click here.) Then let me know, using the comment form below.