April 28, 2012 (Saturday) – This morning, Zabine had a wonderful and completely unexpected encounter with Rosalie Huibonhua, a Baha'i Continental Counselor. Her areas of responsibility include China, Hong Kong, Vietnam and other Asian countries. She is here, of course, to attend the celebration of the Hanoi Baha'i community's 20th anniversary.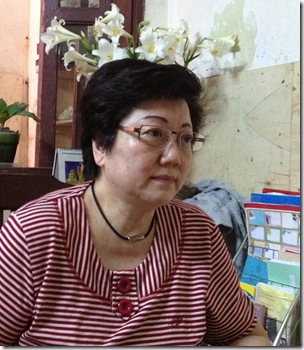 We met her at the home of a member of the Vietnam Baha'i national governing body. Although it seemed like a chance meeting, I don't really believe in luck.  Zabine and Rosalie, it turns out, share a common vision regarding social action and spiritual education. The Counselor instantly recognized many ways Zabine's work could facilitate her own. They both talked so fast I couldn't keep up, but my sense is that Very Great Things will come from the relationship.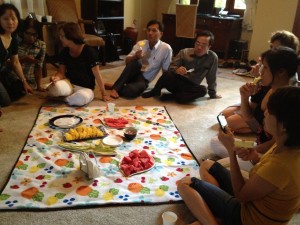 Later in the afternoon, Zabine taught a workshop on resources for engaging in unifying conversation. Speaking of which: Most of the friends attending were Vietnamese, so she spoke with the aid of a translator. Although she brought various printed materials, one of her best tools is turning out to be the iPad. Considering Zabine never had used an iPad until this week (she's borrowing mine), it's amazing how quickly she has mastered thic amazing tool.
That evening, back at our home-away-from-home, we enjoyed a wonderful dinner and relaxed conversation with our hosts. Although I love traveling, it is inevitably hectic: You're always in novel situations and running on high energy. We were more than ready for this deeply peaceful evening. Tomorrow is another day.