April 29, 2012 (Sunday) – Simple acts of kindness are miraculously effective at bridging deep divides. Among the many miracle workers we have met in Hanoi are Michael Orona; his wife, Selena; and their three children.
These beautiful Baha'i souls made history at the 20th Anniversary celebration of the founding of the Hanoi Baha'i community. There's still a lot more other news and photography in the pipeline, so please stay tuned. But I could not wait to post the video below. The stage performance it depicts took my breath away because, as I was recording it, its significance suddenly struck home. "Has anything like this ever happened before?" I wondered.
I couldn't think of anything. Neither, when we discussed it later, could Michael. Please bear with me while I explain: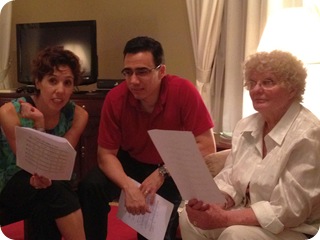 Michael is a member of the U.S. diplomatic corps. He serves at the American embassy in Hanoi as the ambassador's adviser on human rights and religious freedom in Vietnam. His heritage is Native American, his father being Apache. (He hails from Arizona, a state where — I was delighted to discover — we share close friends in Charles and Jeanette Coffey.) Anyone who meets Michael or his family will immediately sense their deep love for Vietnam, its people, its culture, its long and often painful history – and their hope for its future.
But what is historic about performing Baha'i music at a Baha'i celebration? Don't people do this all the time, just about everywhere? Yes, of course we do. What in this video is different?
Probably you already see where I'm heading with this, but please consider two points that sharpen our focus:
First, after the unspeakably tragic events of the Sixties and Seventies, it would have been hard to imagine two governments further apart, diplomatically, than those of the United States and Vietnam. The rebuilding of trust has been slow, awkward, and painful. My sense is that much of that path remains to be traveled.
Second, although the celebration we attended was completely Vietnamese, its ramifications were national and even international, given the attendance. Scores of well-wishers came from other countries, including at least one from the diametrically opposite side of the planet. (That was me!) In Vietnam, anyone wishing to make a stage presentation at such an event must first seek and receive approval from the government. For example, Zabine did not address the gathering because she did not get her visa in time to submit the necessary application.
But back to the family of Michael Orona: As they sang of love and peace, it occurred to me that this might well be the first time (since the end of military engagement) that any American government official had performed onstage at a state-sanctioned national event in Vietnam. Of course, I understood that someone else might know of such an event where I wouldn't. But Michael himself almost certainly would know, and he too could think of no previous instance.
I am therefore cautiously confident that this was indeed a historic "first". One that should help bring our countries and our people closer together. It certainly exemplifies the Baha'i approach to unification and healing, heart to heart. Please enjoy and comment on the video: