April 29, 2012 (Sunday) – As I have explained, the stated reason Zabine Van Ness and I are in Vietnam is that the Hanoi Baha'i community, on the 20th anniversary of its founding, wanted to honor Zabine for her role in that seminal event.
That "stated" reason is of course their reason – and a good reason it is indeed. But it isn't Zabine's reason for accepting the invitation. She came here with the hope that she could assist and empower the Vietnamese friends today, perhaps even more than she did in the past. "The celebration is about the last 20 years," she says. "It's time to be working on the next 20."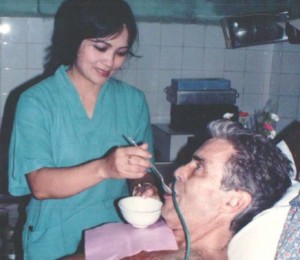 That's what she has done, from the moment the plane touched down. More about that later. Zabine, however, has a passion for documenting history and has put together a fabulous slideshow about the events 20 years ago that launched the Hanoi community. She and her then-husband, the late J.T. Linkins, taught and enrolled the first Hanoi believer, Dr. Dao An Son. The circumstances were harrowing: J.T. almost died, under circumstances that might easily have triggered an international incident.
But he didn't die, and all was well that ended well. Please click the image below to read the amazing story. It is in PDF format, and you will need the free Adobe Reader software (adobe.com) to view it. If you have it installed already, you should be able to view it in your browser window. (And please be patient – it's a large file and may take a few minutes to download.)