April 25, 2012 (Wednesday) – We are now in Hanoi. Considering my many (mis)adventures with travel, domestic and foreign, the trip here was amazingly smooth and stress-free. Well, as stress-free as 18 or so hours on an airplane can be.
We landed in Seoul, Korea (Incheon Airport) right on schedule (okay, a couple of minutes late). The first thrill was discovering that our cell phones could connect to the airport's free wifi hotspot. So I texted, then called, my beloved Cheri. Actually heard her voice (though what that voice was saying was that she couldn't hear mine very well). Zabine and I passed through airport security to board the plane to Hanoi. Then ensued a four-hour flight, during which we both tried to catch a bit of sleep.
Landing, debarking, and baggage collection – smooth. Immigration entry checkpoint, even smoother. Zabine and I both recall travels where involved a lot of entry paperwork. Here we were greeted by a brisk customs official who checked our passports and visas, confirmed they were in order, stamped them, and waved us through.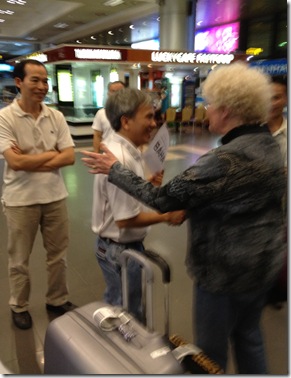 Then a thrill: As we walked left the airport proper, we spotted three men holding a sign that read "Baha'i". Ecstatic greetings and introductions ensued. Zabine, who has been to Vietnam twice before this trip, well remembers when no such openness would have been possible. Having official government recognition for the Faith makes all the difference. As is typical in Baha'i circles, we all were like lifelong friends, nay family, within five minutes.
A car ride followed, during which we learned all about Hanoi and Vietnam. Zabine was astounded by how much, and how rapidly, things have changed. A major surprise was the relatively small number of bicycles, once much more common, and the corresponding prevalence of small motorcycles. Everyone seems now to get around that way.
We were taken to the home of Dr. Hao Van Le and his wife, Dr. Khinh Le, who are providing hospitality during our stay. Their home has, among other amenities, very high-quality wifi. (That's why I'm able to post blog updates like this one.)
As the home tour completed, we were rapidly descending into jet-lag-reinforced comas. Zabine and I therefore retired to our separate sleeping rooms. I did, however, take a few minutes to call Cheri over a free wifi VOIP phone service. To my amazement, it connected instantly and were able to talk as easily as if we were in the same room. (More on that later.)