April 24, 2012 — Zabine and I are in flight –Asiana Airlines– somewhere between Seattle and Seoul. We've travewled 1550 of our 5210-mile total;our altitude is 36,000 feet, ground speed 532 miles per hour, and current outside air temperature — a balmy minus-70 degrees F. (Guess if I get too hot, I can always go perch on the wing!)
S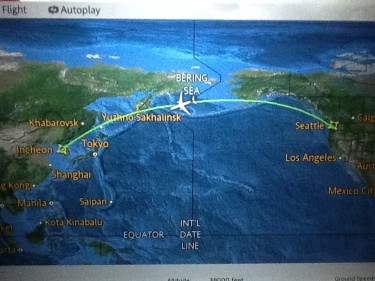 ense of time, utterly mixed up. Between Knoxville, my home, and Hanoi, our ultimate destination, the time difference is 12 hours. (But does Daylight Saving Time factor in, and how?) Twixt Seattle and Hanoi, 15 hours –at least that's what the web site said. What I don't know is what time zone we're in right now, or where the international date line is, or what time it is now, locally. (Is there even such a thing as local time when you're 36,000 feet high?) My iPad clock reads 6:05 p.m., but that's just what the time WOULD be if we hadn't left Seattle and lost Internet access.
This I know: Asiana is one classy airline. Boarding was a breeze, despite the hugeness of the crowd getting onto the packed plane. Accommodations are comfortable and spacious; the flight crew, uniformly friendly, briskly efficient and genuinely caring. I wish domestic air travel were as easy as this, but it just isn't.

——–
Now we are a bit more than halfway. We are just crossing the International Date Line. Yes, it turns out each seat has a video display that shows stuff like that! Also the local time, currently 3:09 p.m. on the ground directly below us. The local time in Seoul, however, is 12:10 p.m., and we are set to arrive at 5:50 p.m. So we're a bit more than five and a half hours from landing.
That video display offers an interactive menu of movies, music channels, games and lots of other things. All the latest Oscar winners are there, and all the top box-office hits. I've seen many of them already –Cheri and I have Netflix — but I decided to watch "X-Men First Class" and "Thor". These probably wouldn't be Cheri's choices, but I'm a comics collector from way back.
The music, on the other hand, didn't engage me, so I popped in my earbuds, set my iPhone music collection to shuffle, and zoned out. I'm finding that in"airplane mode" (where it doesn't waste juice searching fruitlessly for wifi or phone signals), it can play music for hours with hardly any battery drain.
——————-
We're now nine and a half hours into the flight, cruising at 40,000 feet, minus-80 degrees F. outside. We just crossed Japan — grazed it, anyway. Local time on the sea-floor below us is 4:23 p.m., while Seattle time is 12:23 a.m. Hmm. That means Knoxville time is 3:23 a.m. Still confused about time zones and Daylight Saving Time. All will be revealed.